Each spring, the runoff from the snow on the Brazos Cliffs creates New Mexico's highest waterfall. The Brazos Falls are a spectacular site and are best viewed from Corkins Lodge.
Brazos Falls Details
Active Dates: the middle to late April  through the middle of May
The waterfall typically runs for 2-3 weeks. The waterfall start and stop dates are dependent on the snowpack and spring thaw.
Waterfall Access: There are no hiking or jeep trails to the foot of the falls. The grounds at Corkins Lodge are reserved for guests only and are not open to the public.
Waterfall Height: 2,400-feet with a 1,300-foot vertical drop
Elevation: 8,700 – 10,000 feet
The Brazos Falls waterfall is seasonal and only active in the springtime for a few weeks from April-May. The waterfall timing is entirely dependent on the amount of snowpack on the upper cliffs and when the spring thaw begins to melt that snow.
New Mexico's Highest Waterfall
It's hard to describe the majesty of experiencing thousands of gallons of water dropping vertically for 1,300 feet. The rushing sound of the waterfall mingles with the wind through the trees to create nature's perfect white noise. The Brazos waterfall often creates beautiful rainbows when the mist of the rushing water is kissed by the sun.
The Brazos Falls are a horsetail chute fall meaning the descending water maintains contact with the bedrock, and then a large quantity of water is forced through a narrow vertical passage.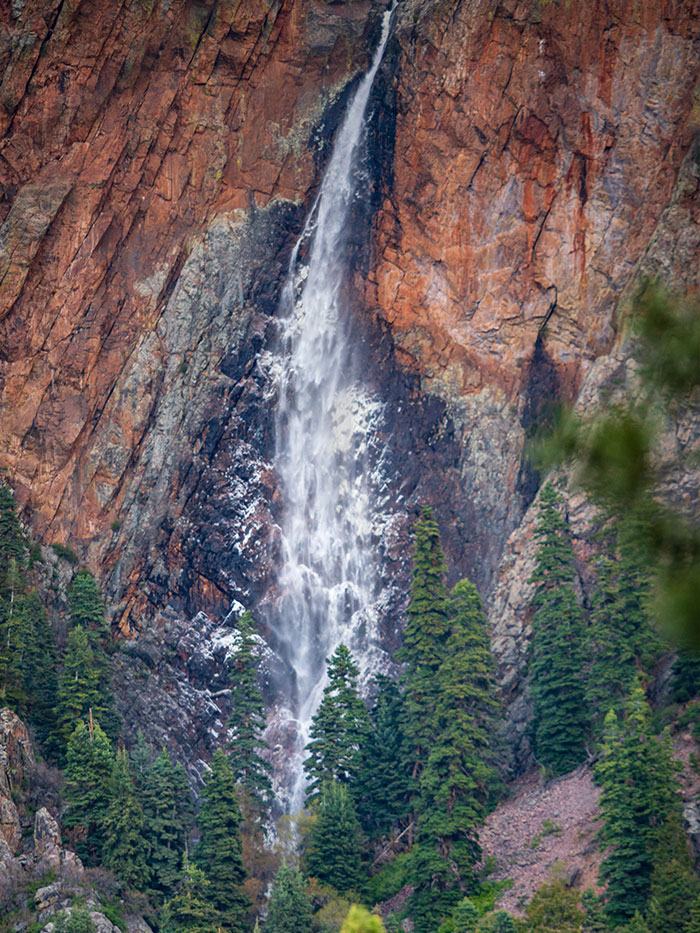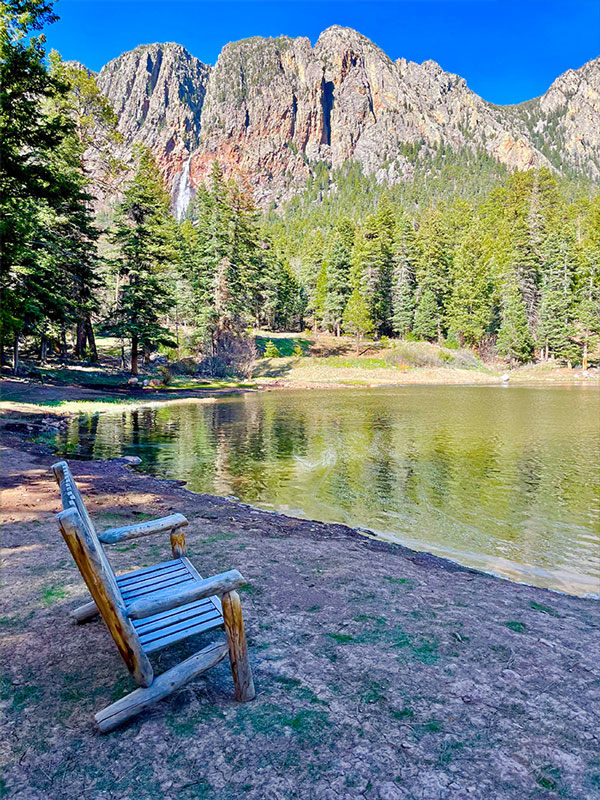 Private Waterfall Viewing Available
The Brazos Falls feed the Rio Brazos river that flows through the Corkins Lodge grounds and has some of the best fishing in the state. The giant waterfall also creates spectacular smaller waterfalls you can access through hiking on the grounds on 1,600 acres of Corkins private land.
The Brazos Falls are also known as the "Brazos Box Falls" and "El Chorro Falls," meaning "The Jet."
Click on any photo to see gallery view.