The grounds of Corkin's Lodge has many trails that can be enjoyed by the whole family.  We have easy hikes that are walks in the wood to more intermediate hikes that have elevation changes and offer beautiful views of the river and cliffs.
The grounds of Corkin's Lodge and the mountains around this area of Northern New Mexico are full of opportunities for beautiful hikes. Guests of Corkin's Lodge can walk right outside their cabin and take off for a hike into the peaceful pine forests and aspen groves, as well as take some more adventurous hikes, such as out into nearby Box Canyon and Brazos Cliffs. 
Distance: 2.1miles | 3.6km
Average roundtrip time: 60 minutes
This easy-to-follow route commences at Old Lodge, follows the road Corkins workers use for firewood collection, and ends at a river crossing. It is the most direct way of accessing the Box Canyon Trail.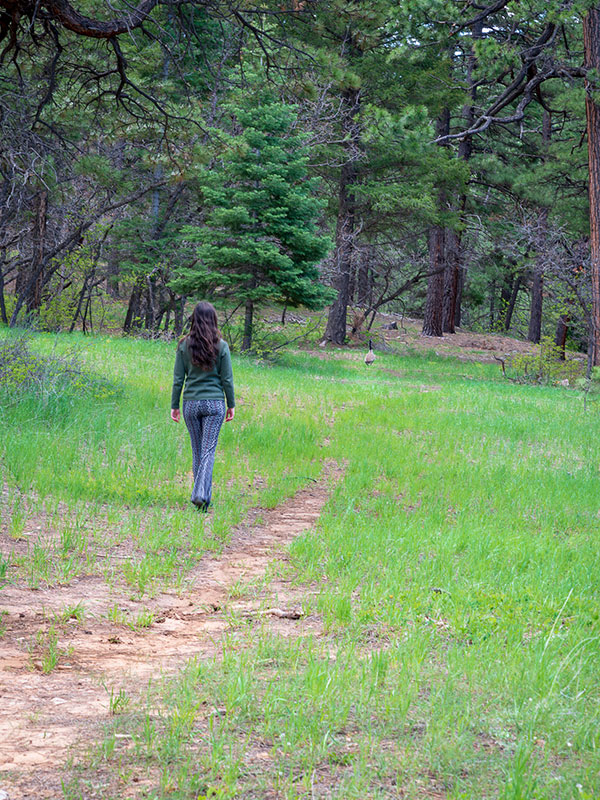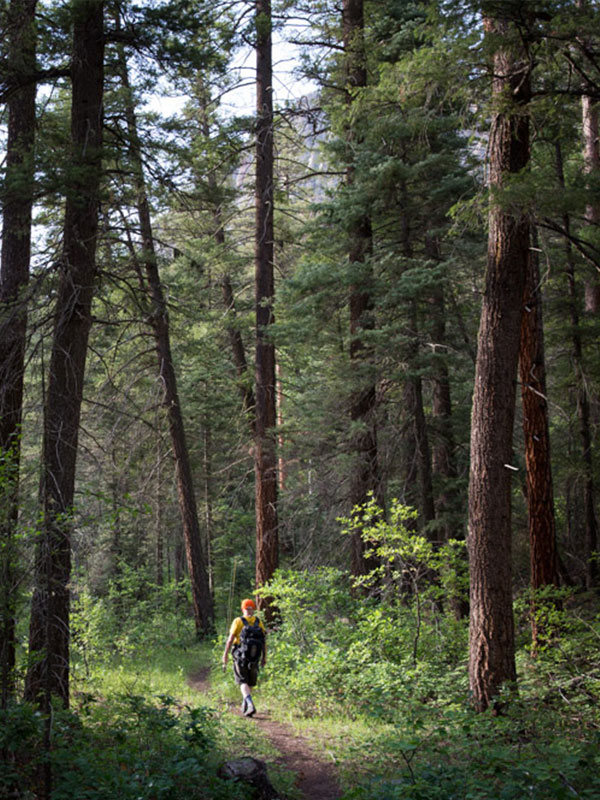 Distance: 1.25 miles | 2.0km
Average roundtrip time: 60 minutes
This easy-to-follow route splits off from the One-Mile Trail not too far from the Old Lodge, a bit past the Aspen Meadow. It does include `100 feet of elevation change as it winds its way down to the Brazos River. A tree house awaits you there.
Distance: 1.25 miles | 2.0km
Average roundtrip time: 120 minutes
The more-primitive River Trail is accessed by making your way to the office, then following the side road that splits off to the right (and downhill) from the main road. Proceed down the hill beneath Log Cabin, then follow the sign, head down the basalt cliff via the Old Taos Stagecoach Road to the River, then begin tracking upstream.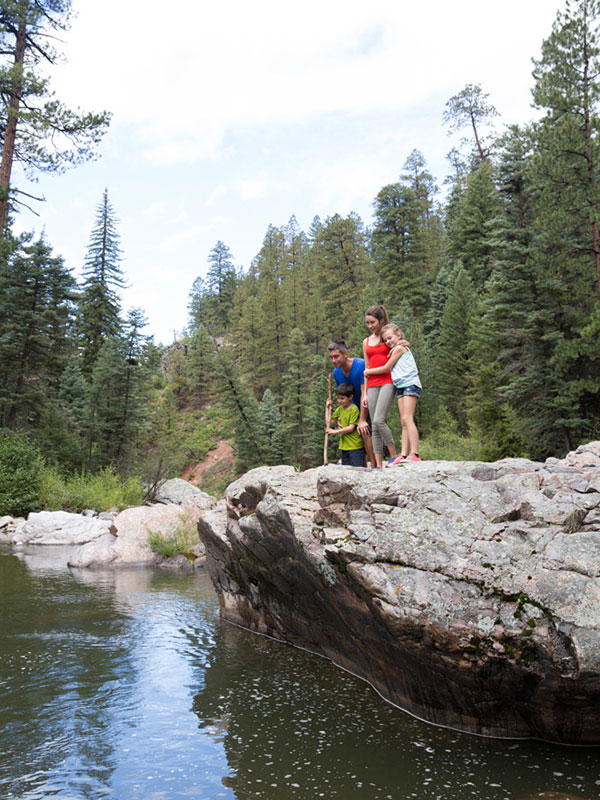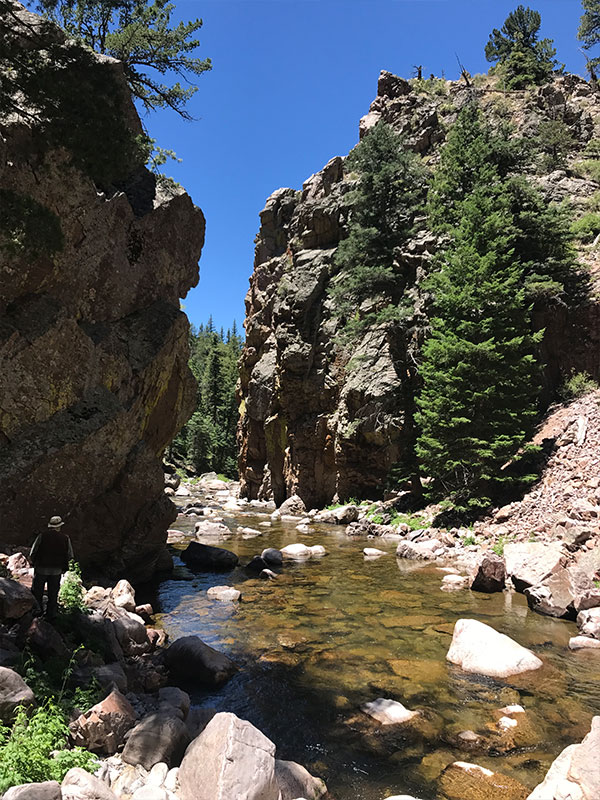 Distance: 3.5 miles | 5.3km (including Mile Road portion)
Average roundtrip time: 180 minutes
Near the end of Mile Road, this rugged trail splits off through the forest, then quickly begins climbing high above the river toward the Box. There are occasional stone markers.
Video showing some of our hiking options.
Looking for more natural beauty in Northern New Mexico? Enjoy our state's wildlife and parks.
Edward Sargent Wildlife Management Area
A short drive away, right outside of Chama to the north, you will find this beautiful wildlife preserve. It's a great location for hiking, mountain biking, scenic mountain views and wildlife watching.
Drive Time: 30 minutes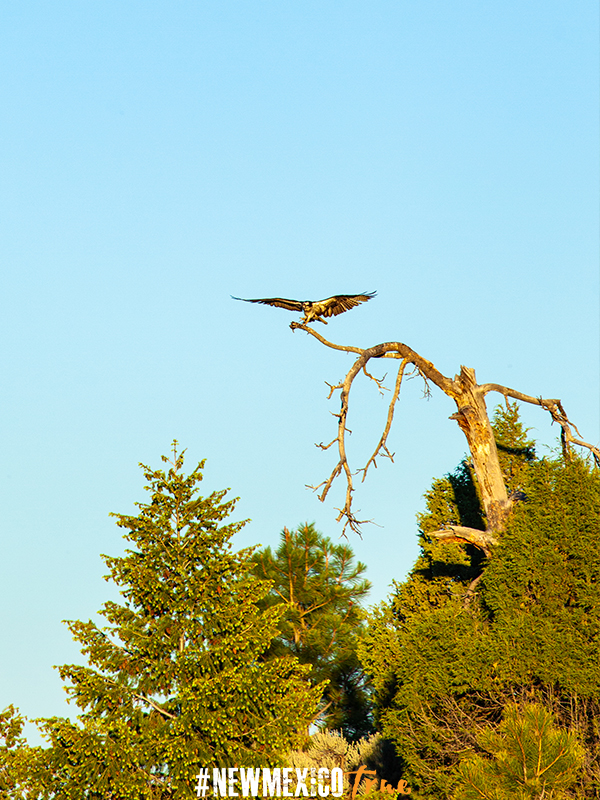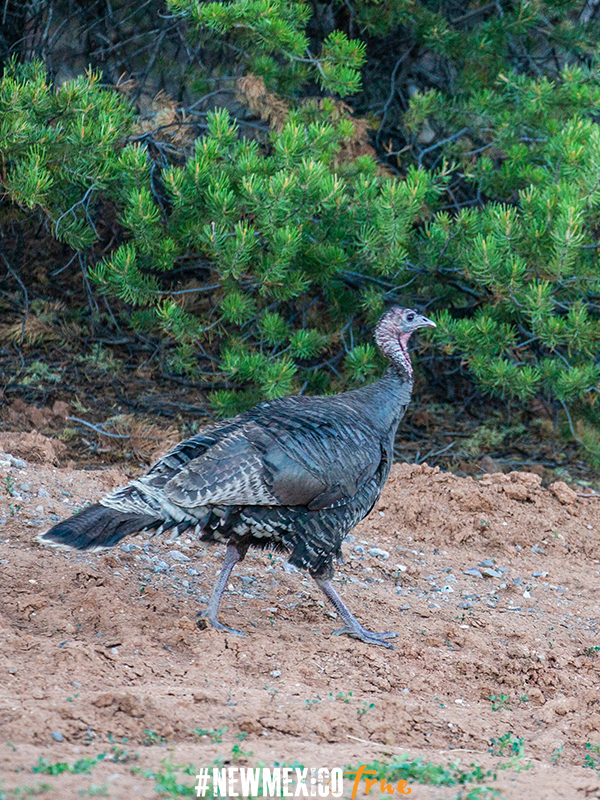 A short drive to the south of Corkin's Lodge you will find Heron Lake. This state park offers opportunities for hiking, biking, boat rentals and fishing.
Drive Time: 30 minutes